In this detailed guide we'll show you exactly how to write a high converting Ecommerce welcome email sequence for your brand.
We'll include all of the welcome series best practices we've learned over the years at our email marketing agency – Ecommerce Intelligence, along with showing you some of the best welcome email examples and subject lines.
"You never get a second chance to make a first impression."
You've heard this before, right?
Effective Ecommerce welcome email sequences give brands the perfect opportunity to make the best first impression possible with new prospects and potential customers. This is something you want to get right, so we've created this super in-depth guide to help you. Here's what we'll cover:
Welcome Series: The Most Important Ecommerce Email Drip Sequence
If you've read our Klaviyo flows guide you'll know the welcome series is one of the most important flows.
For many prospects and first time visitors, your email welcome series is a big part the first real interaction you have with them on the day they first discover your brand.
Sure, they've probably seen your Facebook ads and clicked around your website, but at this browsing stage most people don't really know your company or what you stand for. They certainly don't know your brand story or how your product line benefits customers in unique ways vs. the competition.
An effective email welcome sequence gives you an invaluable chance to communicate your message, brand values, and drive sales. When it's done properly it wins you scores of new customers in the process. It is essentially an automated sales funnel working for you 24/7. Shopify lists the welcome series as one of their vital email sequences.1
A well written and optimized series of welcome emails will be the biggest revenue driver out of all automated email sequences for many marketers. It's the first automation we focus on getting in place with new brands here at the agency.
That is, as long as an effective lead capture system is in place to feed new subscribers into you series of welcome emails.
A High Performing Ecommerce Welcome Email Series NEEDS Effective Lead Capture
It doesn't matter how great your welcome email series is – if it's not being sent to anyone, it's not going to make you much money. You need a continuous flow of new subscribers into your email lists that feed directly to your welcome emails.
There are three basic ways most Ecommerce stores go about growing their subscriber lists to set their email marketing strategy up for success:
Relegating their newsletter signup form to the footer of their website and hoping would-be customers will take the initiative to opt in.
Growing an email list solely from people who either purchase or abandon the checkout process on an Ecommerce store after entering an email address.
Capturing visitors' attention with a timely, often-incentivized popup based on their specific website activity, via tools such as JustUno, Privy or OptinMonster. Klaviyo also has this popup form feature built in.
Which approach do you think is more successful? Strategy #1 will always result in slow list growth. Strategy #2 works of course, but list growth is nowhere near as fast as it could be.
Strategy #3 – having effective lead capture in place with pop up forms – is the quickest way to grow an engaged subscriber list for both email and SMS, and get the most value from every visitor to your online store. Even if most people don't buy immediately.
The more leads you capture from non-buyers, the more heavy lifting your automated welcome emails can do on the back end.
Below you'll see examples of 3 Ecommerce Stores – Furbo, Ellen Degeneres Show Shop, and Nested Bean, serving different types of opt-in campaigns to grow their email lists:
These successful Ecommerce brands don't require visitors to search for sign up forms. Their forms immediately grab attention, and can be easily customized and triggered based on a variety of factors. Ever gone to close a website only to see a popup offering you a discount code if you subscribe before leaving? That's an exit-intent triggered pop up in action.
If you do decide to implement a popup subscribe form on your website, you'll want to do two things to get maximum value out of them – Incentivize the email optin, and A/B test the design or offer.
Incentivizing Your Welcome Email Opt-In Form and A/B Testing It
People are growing increasingly protective over their inboxes, which is why tying an offer to your signup form is often a key part of an effective email marketing strategy.
It doesn't have to be gratuitous – 10% off the first purchase will typically suffice – but you need it to give visitors a reason to hand over their contact information. (This is also immensely helpful in turning new subscribers into loyal purchasers. More on that later.)
Popups can definitely work without monetary or discount-based incentives too, just expect the conversion rate to be lower. However, regardless of your personal feelings on popups for lead capture, they absolutely work.2
You'll want to split-test your popup to get optimal results. There is a myriad of different tests you can conduct with the Klaviyo form building or a third part tool like Privy. From the offer itself, to the text and image used, to the amount of time a user spends on your website before the popup is triggered.
Isolate one variable, test two different versions, declare a winner, then repeat the process.
You'll have a high-converting opt-in form in no time.
Once you've figured out how to build up your store's email list quickly and effectively with pop ups, the next natural step is to walk these people through your welcome sequence after they've signed up.
So let's talk about how to create a welcome email sequence to convert these new leads into first time customers.
The Ecommerce Welcome Email Series – What Should you Include?
Now we'll explain exactly what to include in an effective Ecommerce email welcome sequence, how many welcome emails to send, and what the timing should look like.
Of course the specifics will depend on your brand and the market you're in, but in general a good email welcome email sequence should include:
Immediately give the user what they signed up for (coupon, free guide, etc)
Overview of your brand story and what you stand for
Information about your products, their benefits, and USPs
Proof – customer reviews, testimonials, user generated content
Educational information about your market. Links to blogs, guides, or videos
Multiple reminders about the coupon or discount, and when it expires
FAQs covering the main objections in your market or reasons customers might not buy
Highlight products or bestseller recommendations
Set expectations around what kind of emails you'll be sending and how often
We realize this is a lot. You don't have to include absolutely everything from that list, but we're giving you an idea of what the best welcome email examples include so you can customize everything for your brand based on what you feel should be included or left out.
We'll walk you through exactly how to write an email welcome series for your brand later in this guide.
The more you can educate a customer and demonstrate why your products work and offer good value, the more trust you'll build and the higher your conversion rate will be. Social proof and UGC is also huge for increasing conversions from subscriber to first time buyer.
How Many Emails Should Be in a Welcome Series for an Ecommerce Brand?
As always, the number of welcome emails you should send is "it depends".
Here is how to think about this question for your brand and know exactly how many emails to include in your welcome sequence.
The main factor is going to be the average length of the buying cycle in your market, how much information a new customer needs to make their purchase decision, and the price point.
Shorter Welcome Sequences
If you're selling low-priced widgets that are easy to understand you probably don't need to spend a lot of time explaining how the products work or educating customers about the market. They likely just want to buy from a brand who is trustworthy, offers competitive pricing and fast shipping with good customer service.
In this case you can use a simple welcome series structure of 3-5 emails.
Longer Welcome Sequences
Brands selling complex products which require a lot of research and comparison from customers should aim to build at extended welcome sequence with more emails spread over a longer period of time.
There are two reasons for this.
Firstly, a customer needs more information before committing to buy, and likely a higher level of trust in a brand.
Secondly, they're spending a longer period of time researching. So your email welcome series timing needs to accommodate to this. If it takes 3-5 weeks for a customer to complete their research in your market and then buy, you don't want to deliver a 5 email sequence over 5 days and then go silent.
Try dripping content out every other day for a few weeks to stay top of mind for longer sequences. Give subscribers as much information as they need to build trust and maybe even build brand loyalty on some level before they've even purchased from you.
Do not be afraid to make your welcome series 10 emails long or more in expensive, research driven markets. Email campaigns are the perfect tool to educate potential customers and stay top of mind inside a crowded inbox over the period of a few weeks.
Most of your competitors will not be doing this, so it will give your overall automation above average conversion rates.
How Do You Write a Good Ecommerce Welcome Email Sequence For New Subscribers?
Now we're getting into the nitty gritty.
We'll talk about how to write a good email welcome series with examples of what to include in each email for new subscribers.
Of course these are just examples so you'll need to personalize everything for your own brand.
In this welcome sequence example we'll lay out what to include in a five email series. This will give you a good idea on the structure and information to include at various points. This can be shortened or extended based on your individual needs.
Welcome Email #1: Get Straight to The Point with A Good Welcome Message
If you're wondering how to write a good initial welcome email for new subscribers, it's actually very simple. Immediately give them what they signed up for.
You're most likely not getting people to opt in with generic "join our newsletter" messaging. Subscribers are usually signing up for something specific like a first purchase discount, some kind of educational guide, a piece of content, or another tangible deliverable.
Give it to them straight away.
When people opt-in through your incentivized popup, they don't want to get smacked in the face by a wall of text outlining how wonderful your company is.
They want their discount. And they want it immediately.
Don't let anything get in the way of a new customer making their first purchase. There is no need to get cute with your initial welcome message if the opt-in is based on a coupon for new customers.
So configure this first message in your Ecommerce welcome email series to send automatically the second a new subscriber joins your list, make the coupon code and any conditions clear and obvious, and include a little thank you note at the end. Have a strong call to action. Maybe some product recommendations and a review or two as well for the extra conversion boost.
Here is an idea of the short and sweet approach we recommend you take in email #1. Give them what they signed up for, show off some bestsellers, and display a few of your best customer reviews:
Hey first name, thanks for signing up!
Here's your 10% discount: [CODE]
We're thrilled to have you on board and know you're going to love our products. Stay tuned for exclusive subscriber-only news, deals and more!
Check out these current best sellers and customer reviews below.
Note: We strongly recommend setting the code to expire a few days or a few weeks from the date of issuance and communicating this in your first message. This will help you build urgency throughout the rest of your welcome sequence.
Welcome Emails #2 Onwards: Tell Your Brand Story, Educate, Answer Questions, & Build Trust
Once you've delivered the goods in your first email, it's time to nurture these leads with a warm welcome and turn as many as possible into paying customers if they haven't bought already.
We'll talk about removing subscribers from your initial email marketing sequence later in this guide if they purchase.
Welcome Email #2
Since the first email in this sequence is simple and light on content by design, Email #2 is a logical place to provide background on your company and to more officially welcome subscribers to your tribe/family/whatever you choose to call your collective group of customers. Remind subscribers why you're awesome and why they decided to sign up!
Use it to highlight your USP and to begin the process of establishing the tone you'll be using in all future email communications. You really want to build your brand's personality so your recipients feel like they "know" your company – this will make them much less hesitant to ultimately purchase from you.
Mention the discount near the end of the email but be subtle about it. Don't undo all the brand building you've done throughout the email by sounding like a used-car salesman at the end.
Welcome Email #3
While the second email is where you'll be telling people about your company, the third email is where you'll be showing it to them. Use this as a chance to highlight and describe some of your best-selling items and remind recipients they can get them at a discounted price if they act fast.
Make it easy for them to reach product pages by including multiple CTAs throughout. And include reviews for some of the best sellers you're promoting.
Welcome Email #4
Three words: more social proof.
You can of course use social proof throughout your welcome sequence emails, but focusing one email solely on social proof and nothing else can be a great idea in your fourth email.
Why?
Because if your recipient hasn't made a purchase at this stage in your welcome series, they still need to be convinced that your products are as great as you say they are.
Who better to accomplish this than your happy customers?
Find a few reviews on your website or Facebook page that do a good job of addressing the concerns a hesitant shopper likely has, or really showing off the benefits.
Things like product quality, customer service, and shipping time. Your goal in including these is two-fold: to make people want what you're selling and to alleviate any misgivings they may have about doing business with a company they have yet to purchase from.
Include images of the reviews if possible and be sure to link out to the corresponding product pages. Press home the fact that their discount is expiring soon and that if they want to get 10% off the item Alex or Jimmy was raving about, they only have a little time left to do so.
Welcome Series Email #5 (Or Your Final Email): Go For Broke?
At this point, your new subscriber has already received four emails from you and they still haven't taken the bait.
Let them know their discount is going to expire in a few hours, and that once it does, their opportunity to save on the product of their dreams is gone for good. And always use real scarcity if you're going to employ this tactic, with coupon codes that DO actually expire.
If it fits your brand, use phrases that are going to create urgency and move them to take action: "You're about to be left behind", "You're missing out", etc.
As always, include a call to action that links out to individual product pages, not your homepage, in order to eliminate unnecessary friction in the buying process. Multiple CTAs through the email work well.
Email Welcome Sequence Timing and Filtering for Ecommerce Brands
It is important to ensure your welcome message sequence is as relevant as possible to every new subscriber going through it. Relevance is key in email marketing of any kind.
You accomplish this by setting up sensible timing delays, and adding rules in your series to ensure the emails you're sending make sense to subscribers based on where they are at in the buying process. 
Timing for this part of your email marketing strategy is fairly straightforward. Always deliver email #1 immediately. After this you can drip out the remaining welcome emails over a few days or weeks. Every other day can work well, as can every day in markets where the buying cycle is short.
If you expect someone to take weeks to make a buying decision then add more emails to the sequence, with larger gaps between the later ones. We have seen brands run sequences with 30 emails or more delivered over a few months! This is overkill for most stores of course, but it can be effective.
Maintaining Relevance with Smart Welcome Series Automation and Filtering
Let's assume someone hits your website, subscribes to your list to receive a discount code, and immediately uses it to make a purchase. Should they receive the next four emails in your sequence reminding them to use their discount before it expires? Absolutely not. That's not a recipe for happy customers and not how customer loyalty is built.
Not only will these emails be irrelevant to someone who's already redeemed their coupon, but they'll also make your company seem unprofessional, lessening the likelihood of the recipient staying subscribed to your emails and continuing to purchase from you. You want to capture their business with the fewest amount of emails possible. If that only takes a single email, more power to you!
Setting up the logic necessary to keep your emails relevant is fairly simple. Most ESPs have intuitive filters that make it easy to exclude purchasers from receiving subsequent emails, regardless of how many total emails are in your welcome series.
Take Klaviyo, for example. By using the "Placed Order" metric and setting it to zero times since starting the flow, you're able to send your emails only to those subsets of subscribers on your list who have not made a purchase since starting the welcome sequence.
Note: We wrote a full in-depth Klaviyo review here if you want to see more about why we love it. And explained the Klaviyo pricing tiers here.
The best thing about this kind of filtering is that it's rechecked before each email is scheduled to send. If a recipient makes a purchase after Email #3, the ESP will identify this before sending Email #4 and exclude them accordingly. Pretty cool stuff.
Ecommerce Welcome Email Series Subject Lines
You want to include an engaging subject line for each message in your welcome email series. It is more important here than in any other email flow. The first email in your sequence will be fairly high volume, so be sure to split test engaging subject lines following best practices.
Open rate is particularly important for email #1. The more people open this, the more of your subscribers will likely get your futures emails delivered to their inboxes instead of promotions or spam. This is key for a healthy engaged contact list and will increase the performance of every email series you run.
Having said that, you don't need to get too clever with your email subject line for Email #1. People will be looking for this email, especially if it contains a coupon code. Make sure the subject line makes this clear.
Welcome Email Subject Line Examples
Welcome! Your 10% off coupon is inside
Here's your $10 discount code
A gift from us to you… 25% off today
As mentioned, there is no need to get too cute with your email #1 subject lines.
Here are some more welcome sequence subject line template examples you can use as inspiration for emails later in your new subscriber journey:
Don't take our word for it. See why customers love [productname]
Why we really started [brandname]. How we're making a difference
Ends tomorrow: Your 15% off code expires soon!
Don't miss out. Your $20 off code ends tomorrow
How [customer] achieved [result] with [product]
These new reviews from last month almost made us cry…
The crazy story of how we founded [brandname]…
Remember to personalize these for your own email communication style, and try testing emojis in your Ecommerce welcome series subject line tests if it fits your brand.
10 Best Welcome Email Examples from Ecommerce Brands
Now we know this is one of the most effective Ecommerce marketing strategies, let's give you some solid email template and copy inspiration from successful brands. Here are some great looking welcome series email examples you can use for ideas.
There are many brands doing this right, so consider signing up for your favorite store's email list in a non-competing marketing and see how they handle welcome emails for new subscribers. Any good email marketer is open to inspiration from anywhere!
These template ideas for welcome series emails are from various stages of automations from different brands.
Try to think about where they would appear in an overall sequence. Some are from the beginning, and some further into the email funnel. Also try to think about which email examples would have a good click through rate, based on the copy and CTA styles.
Example 1: BECCA
This is your completely standard, run-of-the-mill welcome message from BECCA. Very basic but it does the job of giving someone what they signed up for – the coupon code. Note that this email would benefit from copy that's a little more enticing, plus a customer review near the bottom.
It would also help if the coupon code was in HTML text so it can be copied and pasted into the checkout – especially for users on mobile. Despite those points, this email probably has a high conversion rate.
Example 2: The Sill
This email does a great job of helping new customers choose a product based on their own situation. We love this style of product recommendation for subscribers who are not sure what they want.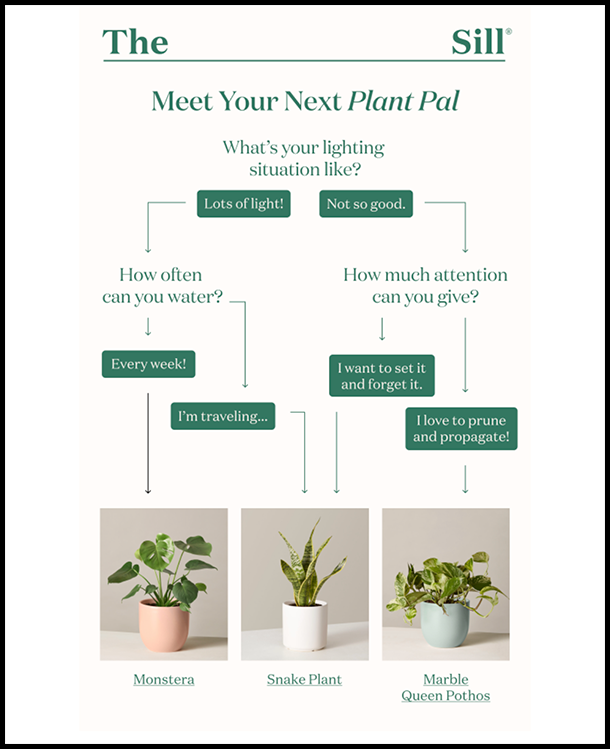 Example 3: Sephora
This is a great email example from Sephora for subscribers who have not yet bought. It gives them a few different options with multiple calls to action, based on what they find attractive.
Example 4: DXL
This is a great example of highlighting product USPs and benefits to customers. DXL are clearly demonstrating why their target customer would want to buy from them – a great strategy for new prospects just discovering your brand for the first time.
Example 5: Dry Bar
This is a visually appealing email highlighting customer reviews and social proof for a hero product. An email like this example can do very well in a welcome sequence for new subscribers.
Example 6: Fenty Beauty
Here Fenty Beauty are clearly promoting the benefits of shopping with them in a well designed email perfectly suited to non-buyers going through a welcome sequence. Any brand can run an email like this in their initial sequence.
Example 7: Kaja
A beautifully designed welcome email message which would be the first email in the sequence for Kaja. Cute copy with good graphics and a solid call to action section. These emails at the start of the sequence generally have a very high click through rates and conversions.
Example 8: GREATS
This is a well designed welcome message from GREATS, who decided not to incentivize their optin. They've created a classy template design with a big focus on product quality, excellent images, and highlighting some USPs. This is a good (GREAT) approach for a premium brand who are not handing out discounts to new customers.
Example 9: Kylie Cosmetics
The first email in Kylie's welcome series. Here the brand uses a unique coupon code that's dynamically generated for each user. This is always good practice and stops generic coupons being shared all over the web. It would be great to add an expiry date for some urgency – at least later on in the series.
Example 10: The Sill
We've already featured this brand once in this examples section, but they earn a second spot in the list for creating great emails. This is a perfect demonstration of how to help customers choose what to buy based on their circumstances, right from within an email.
Note that at the top of the email there is a reminder for the user telling them their 15% off code is still unused. Great stuff all around!
There many more great examples available online too. Klaviyo has some nice examples built into the software.
Finally, don't rush through creating your welcome email series just to get it done. This is a powerful opportunity to make a lasting impression on your would-be customers, so you need to make it count. You won't get everything right the first time around (hence the constant split-testing), but you will position yourself to be successful in the long run.
While there are no one-size-fits-all approaches to email marketing, by following the steps outlined in this article you'll be well-equipped to turn your new email subscribers into paying customers with automated emails.
Summary of Ecommerce Email Welcome Series Best Practices
Keep these points in mind when designing your sequence, whether it's 3 emails long or 33.
Deliver the first email immediately after a customer signs up
Give people what they asked for in welcome email #1 immediately
Use as many emails as you need to get all relevant information across
Think about what kind of email timing makes sense for your market
Always remove people who have purchased
Include high high quality images and user generated content
Heavily rely on social proof in most or all of the emails
Make sure your welcome sequence is getting a fresh supply of new opt in leads
Consider adding an SMS welcome message element if you're collecting numbers
Don't be afraid to refer to other brands for design and copy inspiration
Be sure to follow best practices and make it easy to unsubscribe anytime
Remember this is your first impression. An engaging welcome sequence makes it much more likely people will open your future emails in other automations, and also those all important promotional emails around key sale periods.
If this all sounds like too much work, the final section in this guide to creating welcome emails might be for you.
Work With An Ecommerce Email Marketing Agency to Build an Effective Welcome Sequence for Your Brand
Implementing all of this, along with all of the other automated flows and promotional campaigns which are necessary in an effective email strategy, can be a huge task.
If you're interested working with us to build out a comprehensive email marketing program for your Ecommerce brand using Klaviyo, you can learn more at EcommerceIntelligence.com. If you like what you see, just submit your information and book a free consultation call. We look forward to speaking with you.
And if you'd like to learn more, read this article on advanced email tips for Ecommerce marketers. It has three of our favorite strategies to grow sales.